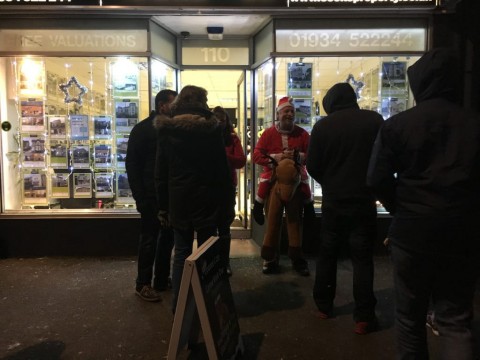 Worle High Street hosted a Christmas Fair last Friday the 8th of December in what was an extremely popular and successful event. Cooke & Co – Your Local Property Expert took the chance to be a part of such a fantastic event for Christmas and the community. Offering free glasses of Mulled Wine and a wide portfolio of properties Cooke & Co proved popular as they enjoyed the success of the event.
Cooke & Co who were established in 2008, have developed and progressed into one of the markets leading Independent Estate Agents, thanks to their outstanding customer service, expertise and motivation to make life as easy as possible for their clients. They are now one of if not the most reputable and respected independent estate agents in Somerset.
Cooke & Co saw this event as an opportunity to show the local people the strides and investments they have made recently as part of a strategy to make life as easy as possible for their clients.
The strategy includes investment in the latest and greatest technologies within the industry and the launch of a brand-new website meaning Landlords and Tenants can now access all the vital information and services they need quicker easier than ever before.
Richard Cooke, Director of Cooke & Co commented; "The Christmas fair on Worle High Street was fantastic, the turnout was great and the community really bought into it. Fingers crossed this can become a yearly event. On a personal level for Cooke & Co, it was great to show the locals what we have been doing recently and how we are stepping up our game to ensure every client we deal with has a smooth and stress-free service when it comes to buying, renting or letting out a property/properties. The mulled wine went down a treat and we look forward to the event next year."
Due to continued success and growth, Cooke & Co now cover Bristol, Pill, Portishead, Clevedon, Worle, Weston-super-Mare, Highbridge, Burnham on Sea and all the villages in the surrounding areas.
For more information on the services and properties that Cooke & Co have in their portfolio please Click Here.